Listening from the Other Room
I am sitting in the kitchen right now, working from home, as Zack does ABA therapy with Danielle at our dining room table. I hear her asking him to do things and filling in stars on a board that records his efforts, then rewarding his success with "Follow the Dots" and other rewards he chose when the session began today.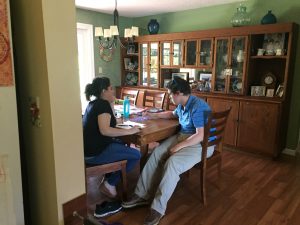 She is teaching Zack to tie a shoe. I never thought this would happen. Still not sure it will. But he does the first two steps and it's only been four days since she began working on it.
I love hearing the undertone of songs he sings to himself throughout the session: his favorite today is the theme from Theodore the Tugboat — " … loves to do the things that tugboats love to do …" I wonder if she marks these down as inappropriate noise? I hope not.
He chuckles whenever Danielle praises him, which is often. And singsongs "Zachary" to congratulate himself.
In the corner, on the floor by the kitchen cupboards, Gaby is snoozing. She has two speeds — zipping around and sound asleep. When Danielle arrived today Gaby kept trying to bite her feet. Those baby teeth are razor sharp and we have to quickly put something in her mouth to prevent our flesh from being pierced.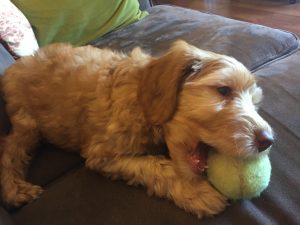 Zack hates it when she nips at his feet. So do I! But it's so good for him to have a puppy to train. It's the first time he's been one of the adults in the household, with a baby to watch over. He takes the role seriously, and I often find him giving her one of the many toys that litter the floor of every room she is allowed into.
The sun is shining. The doors are open. The puppy is sleeping. My boy is learning. It's a good day today.