January can be a hard month. Following my last blog I've had lots of friends admit their own struggles this time of year, ranging from slight blurriness of mind to battles with despair.
That's why I'm sharing something I recently read that could make this month a whole lot easier for many of us. It's an article from The Catholic Herald titled "The Party Must Go On—Yes, Into February."
The premise of this article is that we start Christmas too early, and therefore, end it way too soon. It should really go on until February 2, which is Candlemas.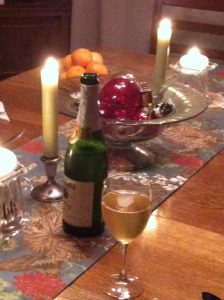 This is wonderful news to someone like me who loves Christmas. The idea is that all the decor that cheers us, all the good food we enjoy, and all the people we love, should last. My own thought is that the holidays shouldn't be community crammed into one weekend with little contact the rest of the year; it should be community year-round. Not over-indulgence we then need to repair through fasting and self-flaggelation; but a continual healthy feasting of goodness.
According to the author of the article, Melanie McDonagh, the idea of taking down Christmas decorations on January 1 or soon thereafter is a Victorian innovation. She quotes author Nick Groom, The Seasons, where he writes: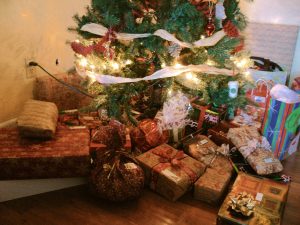 It was in the interests of 19th-century commercial society to get everyone back to work promptly. Today decorations can go up alarmingly early… but they also come down much earlier too. The season of Christmastide has, in other words, shifted forward as if it now expresses an impatient and premature desire for gratification. The result is that there are two cold months of winter following Christmas. It is a bleak time and there is little cheer and spring seems far away, which perhaps accounts for the rising popularity of Valentine's Day.
No kidding! I used to think my after-Christmas slump was a crash from eating too much sugar. But this year, though I did eat some sugar, I passed by many desserts and candies due to a new respect for my recently diagnosed food allergies. So I've been surprised and puzzled that I still feel depressed and edgy.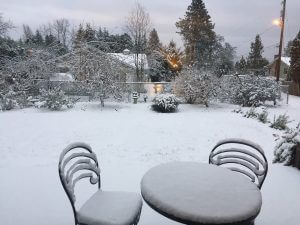 Perhaps it's because (as McDonagh points out, but said here in my own words) smack dab in the middle of the 12 Days of Christmas (on January 1) we make resolutions to give up all starchy carbs and make ourselves go outside to exercise consistently, along with many other self-improvement regimens. It's not that these things are bad, but we choose to do them when headed into the coldest and dreariest month of the year.
No wonder we all get depressed in January! This year, just making my list of resolutions, which included an austere eating regime for the first month of the year, put me into a tailspin from which I have yet to recover. The expectations I put on myself, and the fact that I haven't even started to meet any of them yet, has left me in the swamp of failure and defeat.
That's why this article was perfect to read. McDonagh says DON'T STOP THE CARBS just when you need them most. Our bodies crave carbs in January. Go ahead and eat them. It's also a month when we want to stay inside and hibernate. Go ahead and do it. Leave the jogging until the ground is thawed at least.
Feel better? I do.
Spring will come, and all those lofty goals will still be waiting for us when it does. In the meantime, let's do an experiment: give yourself permission to sleep more, eat some starchy carbs (just don't over-do it), and spend more time with people you love.
Let me know if you feel happier. Or, if you have other ideas, leave a comment. I'm on a quest to make January about more than recovering from Christmas.