My Facebook phone App now automatically creates a video from the photos I have taken during the day. It then offers me a chance to select a theme that includes music and a variety of add-ons to enhance a mini-documentary my friends can view so they know everything about my day that I care to reveal.
I thought that, in light of Thanksgiving yesterday—which was a fabulous day for me, and I hope all of you (but might benefit from some editing, if you know what I mean)–I would post this story I wrote after visiting Whidbey Island a couple months ago with Jay and Zack and Lily, our boxer-lab. Here goes …
According to the video (which I cannot find on Facebook any longer), we had an idyllic walk on the beach at Ebey's Landing that day. We found wishing rocks, easily navigated driftwood logs and scaled boulders, and Lily played in the water like she did as a puppy.
The outing looked like a perfect day. But I felt compelled to burst the Facebook bubble and report the truth, prefacing the slideshow with this post:
To be completely accurate about our day today, the soundtrack on this video would include Zack saying "nnnnnnnnoooooooooo" every 60 seconds as we bribed him to walk down the beach with promises of a ferry boat ride on the way home.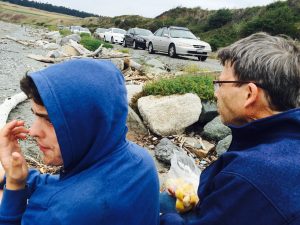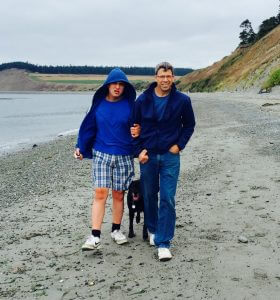 Also, at the age of 13-and-a-half and with some arthritis to deal with, Lily had to be half lifted and half pushed from behind to get in place for the photo shoot of her on the boulder with me, and that took Jay and me pushing and pulling with quite a bit of exertion (at least on my part) since she is … how shall I put it delicately? … about 20 pounds overweight.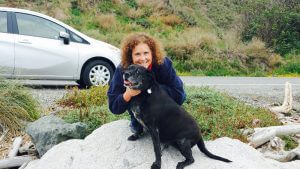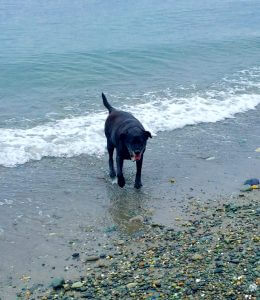 Truth told. No remorse. It was a rare day that we took the initiative and went someplace out of our ordinary routine, and it was worth it even though Zack was a Grumpy Gus aside from the car and ferry rides. That's not his usual persona. Still, I am sure it was good for him to get outside of his comfort zone and walk down an uneven path to a rocky beach with large obstacles every few feet that he felt compelled to step on top of instead of walk around.
There are days when it feels like it's not worth the effort to disrupt Zack's easy routine. But Jay and I have made an unspoken pact that we will not be housebound, and when possible, our son will come with us on our adventures. We need to expand his world so ours does not shrink.
This is me, happy to have triumphed and gone on an adventure together: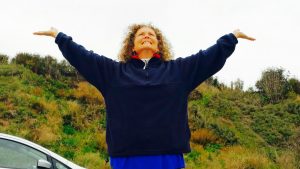 Ebey's Landing includes a five-and-a-half mile loop hike along a high bluff overlooking water and mountains and meadows. We did not attempt this that day; we stayed on the beach and walked about one mile. Then we promised each other that we would return on the next pleasant day, when Zack is at school, to take the hike together, alone.
Confession: We haven't made the hike yet. Maybe this Spring …