I am going on a short outing today for my work. It includes tea tasting, a massage, and lunch. I will then write about the experience so people reading Uniquely Northwest are enticed to go to these places for a brief get-away during the month of February.
My massage is scheduled at one of my favorite places: Cedarbrook Lodge. It is the first place my family went for "Weekends Away" (the name of the column I wrote about travel). As the following piece of writing explains, the opportunity to take time away and go on an adventure came just when our family needed it most:
Weekends Away
Our foursome, whom we labeled JETZ when signing gift tags for extended family (Jay, Elizabeth, Taylor, Zack), spent 15 years vacationing at my mother-in-law's house in the middle of Washington state. The three-story skinny house was situated on the edge of a common meadow that seemed like an extended private yard to us. Nestled in a valley and surrounded by mountains, its high desert location provided scenic views in every season. We played in the community pool during the heat of summer, cross-country skied in winter, picked wildflowers from the meadow in spring, and crunched through fallen leaves in fall. It was our sanctuary. A place large enough to absorb the noise of a youngest son with autism and accommodate an active oldest son's quest for adventure.
I was devastated when the property's sale was announced. Saying goodbye to one of our favorite places was heartbreaking, and we knew our excursions away from home would be severely limited because vacation was not a line item in our family budget.
But just like He always does, when God closed that door, He opened a window. It came through my work as a writer/editor for a community newspaper. On a dare from a co-worker, I responded to a local hotel's press release, telling them I would love to come for a weekend visit if I could bring my family along. To my astonishment, they said yes and treated us to overnight accommodations with meals included. We were giddy with glee.
That weekend was the beginning of four years of monthly trips, just in time for Taylor's high school years when time away with Mom and Dad was essential. We alternated getaways, depending on the location, to include JETZ togetherness, Jay-and-Elizabeth re-connectedness, and Mom-Dad-Taylor respite while Zack was taken care of at home. The couple overnights breathed life into our marriage, and the threesomes with Taylor breathed life into our boy.
JET Time Without Z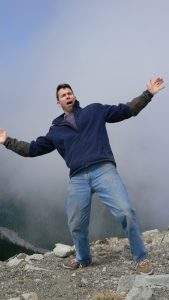 I remember the first threesome weekend we had. We stayed at Crystal Mountain in a well-established ski chalet in June, expecting to be able to hike for the weekend. But the snow was still about three feet deep and all the trails were closed. So we rode a gondola to the top of the mountain and took lots of silly photos of the three of us pretending to teeter at the edge of cliffs. Then we drove to lower ground closer to Mount Rainier and went on day hikes.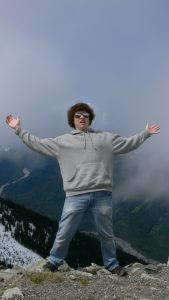 Best of all, we ate dinner together and talked. That may sound like no big deal to the average person, but our family is not average. Mealtimes at home often included underlying tension as Jay tried to get Zack to sit with us at the table. Zack didn't want to be there and his noise and protestations made it impossible to have a conversation. Add to that Taylor's growing irritation at his brother's fussiness and it was always a relief to me when Zack was finally allowed to leave.
Sitting down to eat in the ski lodge's cafe did more than meet our nutritional needs. I realized it was meeting emotional needs when Taylor said, "This is amazing! We are actually talking without being interrupted. We haven't done this in years."
It was one of those moments that spotlights the internal tightrope parents of children with special needs walk, trying to balance family dynamics to meet everyone's needs. We needed to connect with Taylor, and he needed to connect with us. Sadly, it took getting away from Zack to be able to do that.
Jay immediately lamented Zack's absence. I assured him Zack was fine at home, he was happy with his caregiver Stanley, and we needed this time together. This was good.
Good. Beneficial. Necessary. And always arrived at with an ample dose of guilt and sadness. That's an odd mix of emotions, but they invariably intertwined for me.
Our family felt incomplete without Zack, but we needed these times of connection that were impossible when he was with us. It wasn't until years later that he would actually sit pleasantly with us while we ate dinner together. We have learned to converse with Zack coming in and out of our sphere, and it has become easier to take time away without feeling badly about it.