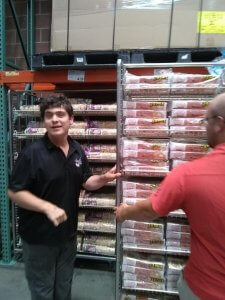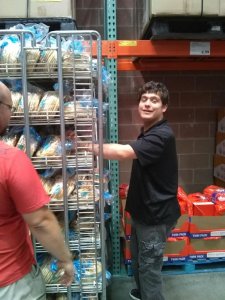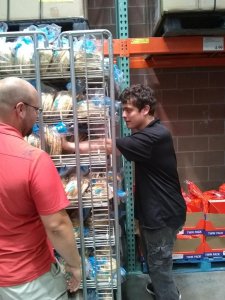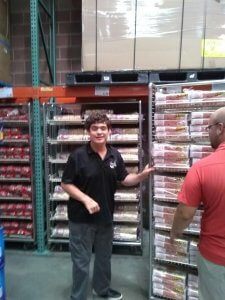 It's been a couple months and I've yet to post on Zack's job at Costco! Shout out to Dave's Killer Bread–"The Best Bread in the Universe." Always my favorite healthy bread when I was still eating wheat, and my favorite again for hiring my son for his first paid job ever.
Zack and his job coach pull out the carts of Dave's Killer Bread and Zack pushes the loaves from the back to the front. That's called "facing" in the grocery store biz. Then they put the carts back in place.
I think that sums it up! It takes about half an hour, or sometimes up to one whole hour, a day. And you can tell from the photos that Zack enjoys it! Especially wearing the shirt.
Other that that, now that he's out of the school system, Zack's days are spent hanging out with Jay. We're working on a community center program that runs for four hours a day Monday through Friday, but haven't set it up quite yet.
Zack seems to enjoy NOT going to school … I enjoy NOT making brown bag lunches … and I'm sure he enjoys NOT eating those lunches anymore … but we do miss the people, so so much!