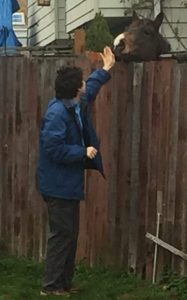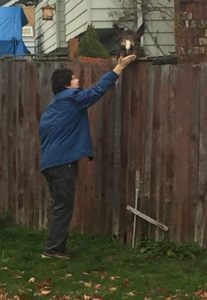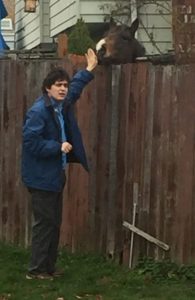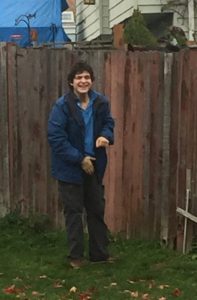 It was an ordinary walk through the neighborhood. These are always taken with the hope of finding a horse for Zack to pet. Just inside the park at the end of our street, we came across one peering over the fence of an adjacent yard.
As usual, the encounter brought horse-glee to our darling man-boy's heart.
Zack's kinship with horses has been evident since he was a young child and first approached one on a family vacation. He spent a couple of hours speaking his language to the beautiful animal, first uttering a sentence and then inclining his ear as if to listen to its response. We all watched intently as we picnicked nearby, intrigued by the connection our little one was making. A connection missing in his interactions with humans.
Dr. Temple Grandin, a well-known voice for the autism community, wrote a book called Thinking in Pictures, which has a photo of her on the front with a horse. She has spent a long career in animal husbandry and transformed the way we treat animals on a commercial level. Much of her insight comes from her own ability to sense how animals feel and why they respond the way they do.
Grandin's work has led to speculations about a special connection between those with autism and animals. We certainly see this in Zack when it comes to horses. It's very sweet, and always a thrill to see his reaction to a horse friend.
Seriously, can you imagine anything better than the reaction below?