Mrs. Griffin goes to Washington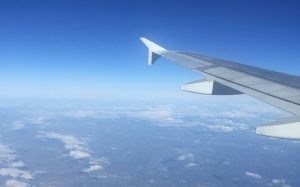 It took all day long to get home from Washington, D.C. today, and boy was I happy to see my guys again. Zack had his window rolled down when Jay pulled up in the car at the airport. He beamed and waved and said, "Good to see you! Hi Mom."
We headed to Chipotle for dinner and now both Jay and Zack are out at their evening obligations while I am home putting the house in order. (Just a bit of sweeping and mopping.)
Highlights of my time in D.C.
My whirlwind three-day advocacy trip was fabulous! After spending all day Wednesday at the Capitol talking to our senators and representatives from Washington state I felt like I had really accomplished something.
A highlight was when Maria Cantwell came up to me and shook my hand, asking why I was on the hill. When I told her, she said, "That's important to me. Thank you so much for coming."
One of the benefits of being in the house and senate buildings for a day is that I saw how hard our politicians work. Each one has six to eight staffers researching issues along with them so they are informed and can vote properly on all the issues that are raised in congress. It's a tough job with lots of accountability.
I was surprised to hear all of the people we talked to emphasize how important it is for them to hear from the people they represent. They highly value our input and listen to it. That motivates me to speak up more often.
It was thrilling to be on the senate floor — what a gorgeous room! And to tour the Capitol. It's beautiful and holds tremendous artwork. (And every piece of furniture is leather that feels like buttah.) I recommend taking a family trip and seeing it.
We couldn't take photos on the floor, but we could in the other rooms which were filled with wall-sized paintings and life-size statues of every president and other important historical figures. It was impressive!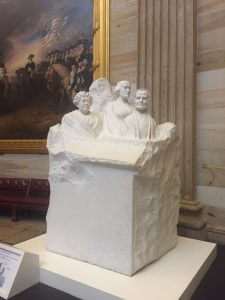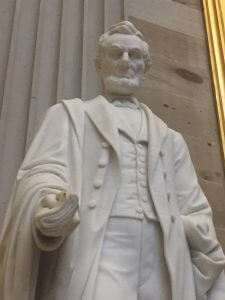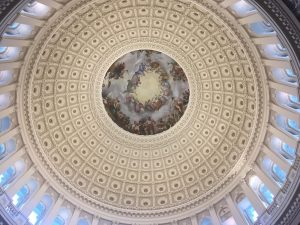 Another huge blessing of the few days I had in D.C. was meeting so many parents and kids whose lives are impacted by fragile X syndrome. I adore the teenage boys who are Zack's age, of course, because they remind me of him. Their humor. Their chatter and noise and repetition. Their affectionate natures. So darling you can't help but love them! (I kept thinking I was hearing Zack.) It was super fun to interact with them, and with their parents.
I am so glad I went, just as I knew I would be.