I am baking cookies today and freezing them for next Saturday when our oldest son, Taylor, will perform his hour-long Senior Piano Recital at Central Washington State University.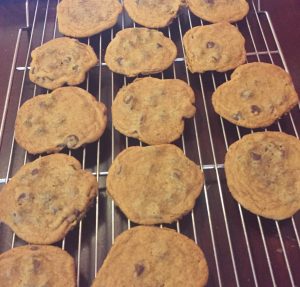 So far I've baked about seven dozen chocolate chip cookies, only 65 of which were acceptable enough in shape for me to deem them worthy of the recital's reception. Not that these are in any way uniform in shape, but they wouldn't be homemade if they were, and who wants to eat cookies that aren't homemade?
Zack has already had "one" of these, as he puts it, three times. It's a good day for him. Mom hasn't baked cookies in a long time.
With such high motivation, it's also a good day to work on having Zack say complete sentences when he asks for something. He has to say, "I want a cookie, please" to be rewarded. Sounds so simple, doesn't it? This is how it goes:
Zack: "One?"
Mom: "You want a cookie? Okay. Say the whole sentence." (We have worked on this for a few months.)
Zack: "I-I-I wan, pwease."
Mom: "I want a cookie, please."
Zack: "I-I-I pwease … cookie."
Mom: "Almost! I … want … a … cookie … please."
Zack: "Cookie … I-I wan … pwea."
A tad bit of frustration looms in the not-so-distant future.
Mom: "You are doing so well!"
Zack brightens.
Mom: "One more time. (slowly) I want a cookie please."
Zack: "I wan a cookie, pwease."
Mom: "Yay! You did it!"
Zack: "Good job, Zack. Good job!"
I admire how hard my son works to put together simple words that his brain somehow wants to deliver in a jumble. With great effort, he is getting better at it.
Mom is learning new things, too
During the past month I've been learning a new job, and there has been more than one occasion when I think about Zack and how hard he works to express himself and function in the world. In the new skills I am acquiring, accessing one online media downloading source has been a particularly steep learning curve for me. This is how a phone conversation with my delightful and very young trainer, who I will name Sarah, went last week:
After greeting one another, etc. Sarah immediately launches in (it is our second training session, after all).
Sarah: So Elizabeth, to begin with let's go over these graphs you can create with your data.
I take a breath to stop her, but she has taken over my computer screen and her pointer is clicking all over the place, so I just try to keep up as she enthusiastically points out all of the graphs available through the website for me to report how many hits each media spot gets.
(My mind flashes back to my college statistics class, for which I earned a "C" grade. I must have learned something about graphs then, but I honestly cannot recall that lecture.)
There are about 100 graphs to choose from in this program Sarah is teaching me (at least it feels that way to me)—everything from heat sensing graphs of our state, nation, and the world, to bar graphs, to variegated color graphs, to line graphs, to so many more that I seriously feel my heart thumping in my eardrums as my brain begins to shut down.
Sarah finally takes a breath and I courageously jump in before I have a full-blown panic attack (which I have never had before, but am sure I am on the verge of at that moment).
Me: Actually, Sarah. Um … could we slow it down just a bit?
Sarah rates high on customer service, so without missing a beat she gives a little giggle and says, "Sure! Where do you want to start?"
Me: Can you show me how to get to your website from my computer? (Yes, I asked that.)
Twenty minutes later, after I have put on the brakes about four times to slow down her breakneck pace, Sarah admits that she just LOVES the math side of this program.
I know that. I can tell. And I am happy for her. I also know that I am a WORDS person. Sure, I am good at math, as long as it doesn't get more abstract that multiplication and division. And, for the record, I have always felt content with that, even though it means that I probably will never be gifted at graphing and reporting on graphs, even when they are generated for me by a computer program.
Back to baking cookies and complete sentences
Once again, my son reminds me to take life and learning one step at a time …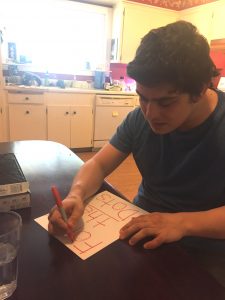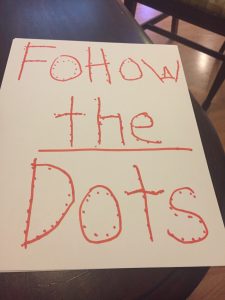 Just as graphs don't make much sense to me, stringing words into a complete sentence may not make much sense to Zack. Still, the rest of the world keeps trying to cheerfully bring him on-board what to him is the Light-Rail-Train of language. And just like I need to learn how to use graphs at work, he needs to learn to communicate his needs to someone who can't guess them by the look in his eyes. That's why we push for it.
And occasionally, he also needs to be able to simply say "One?" and get a cookie without making a formal request.