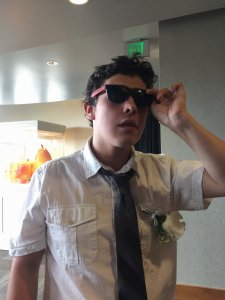 Zack went to Prom last weekend. His Young Life Capernaum group puts it on once a year, and this is the first time he's gone.
My bad. Gotta let my boy live a little bit more! (Okay, I'm learning to let go. Really, I'm trying.)
He loved it! Even was seen on the dance floor a couple of times.
At least, that's what I heard. Parents aren't allowed to stay so who knows what really goes on!
I love seeing my son expand his world. LOVE seeing him have fun with peers. LOVE how he has grown attending Young Life Capernaum for the past three years.
No tux, but he still looked sharp in his nicest shirt and slacks, and Jay's blue tie. Oh yes, and his sunglasses. Can't forget those. They definitely add to the "cool" effect.
I dropped him off at a church in Everett and then followed the rest of the parents to the official venue. Meanwhile, the prom attendees were driven to the event in fancy sports cars that were LOUD (LOUD is not Zack's favorite thing, but the car was cool enough to make up for that, I think).
Here are a progression of photos showing his arrival: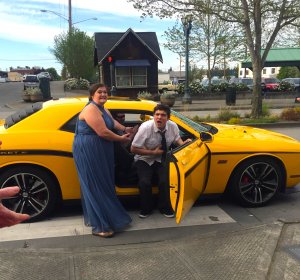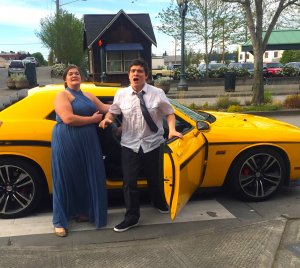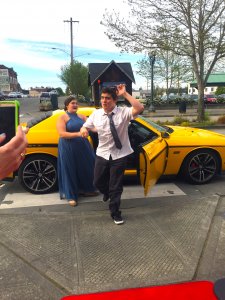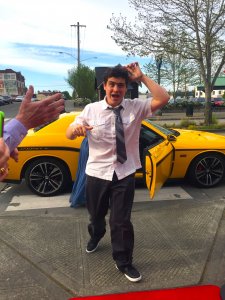 At the venue, each attendee walks down a red carpet with everyone else cheering and high-fiving them, and they are each given a corsage or boutonniere to wear. Then they go inside, have a nice dinner, and dance the night away — until 9 p.m.
Zack fell asleep on the way home. Proms can be fairly exhausting! Gotta love my boy!