Zack on Keto? Really? Yup! As hard as it may be to believe that our chip loving, rice-and-beans kind of guy would eat a Keto diet, he is. And he loves it. We have come a long, long way.
When Taylor and Cassidy (our son and DIL) moved in for the summer they put us all on Keto. I have already been doing it, but was happy for Jay and Zack to hop on board. They were confident that Zack on Keto would be a good thing, and Taylor cooked for the summer. Wow! I felt like a millionaire. Having a gourmet meal cooked by someone else and ready for you at dinner each day is luxurious!
Since Zack is the same height as his dad and brother, but weighed a good 50 pounds more than they did, we've been working on losing that extra poundage. Months ago, Jay (his primary care provider now that I work full time) limited his food to two meals a day and replaced chips with nuts (still fat, but healthier), and Zack had lost about 10 pounds.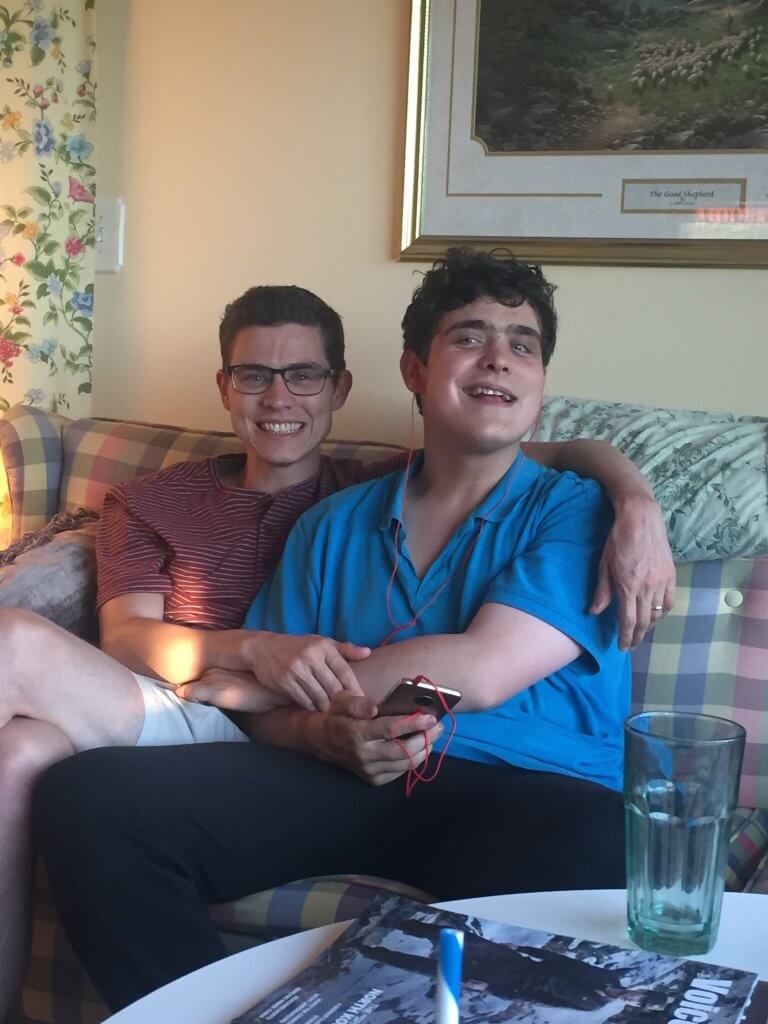 We had great hopes he would lose more on Keto — and also hoped it would stabilize his blood sugar and moods. It did both. And we saw him eating food we never expected he would. Especially when Cassidy began hiding vegetables by pureeing them! (She is going to be a great mom some day.)
Zack has lost another 15 pounds at least, and maybe more by now. We are continuing the diet, and it works.
Not so fast, Dad
And then a week ago Jay (always on a mission to make us even healthier) mixed liver into Zack's organic, grass-fed, ground beef. He figured if Zack on Keto was good, adding more nutrients would be even better!
Well, that was just a little bit too much for our highly-sensitive-and-yet-remarkably-adaptable son with autism.
It actually worked the first time or two. But then there was the day when Zack repeatedly ran from the table to the garbage can with chewed up and spit out ground meat in his hand.
No more liver for him. And trust was broken. He refused to eat ground beef ever again. Or so we feared.
Thank you, Habit Burger Grill
First Zack ate it like a burger.

Then I cut it up for him — too messy!

But just as tasty!

With Jay away for the weekend, I was working from home and fretting about how little Zack would eat. It was down to nuts! So I took him to Habit Burger Grill, a place he's eaten before and enjoyed. We ordered the Charburger with Cheese–two patties with cheese, guacamole, onions, pickles, tomatoes and sauce. Instead of the bun, we got it as a lettuce wrap.
Messy! SO MESSY! And next time I'll skip the onions, extra sauce, tomatoes and pickles for Zack. But other than that, once I picked out everything he didn't like, he ate most of it.
A lettuce wrapped burger and pop — who could want more?

Yes, I spoiled him with diet coke. I know it's bad, but he loves it!
Back at Home
It's a huge relief for a mom when her child eats. Even when he's 22 going on 23 and healthy. What is that? Natural instinct? I'm not sure. But I have it in spades.
After a successful burger expedition, I tried it at home. Instead of cooking the meat ground up, I put it into patty form and fried it. Then, instead of serving it in a bowl with everything on top like we have for years, I served it on a plate with avocado and salsa in separated piles.
He ate the whole thing.